Even though there are many beauty business name ideas available, picking the right brand name can be tricky.
The beauty industry is fiercely competitive, so finding a unique name is one way to get noticed. But the question is, how do you choose the best one for your business?
Here's our top list of name ideas for your beauty business:
Catchy Beauty Business Name Ideas
Beauty by [Your Name]
The [Your Last Name] Beauty Salon
[Your name] 's Beauty Store
[Your name] 's Beauty Supply
Beauty by Design
The Beauty Studio
Beautylicious
Beauty Mark
Polished
The Beauty Spot
Perfection
Bombshell Beauty
Pamper Me Pretty
The Beauty Spot
The Beauty Brigade
Fabulous at Any Age
Beauty by Design
The Beauty Bar
Pretty Please
Beauty Junkies
Beauty Secrets
The Glamourous Life
Couture Beauty
The Beauty Connection
Pretty in Pink
Beauty Bliss
Utopia
Enchanted
The Beauty Queen
The Makeover Studio
Beauty Oasis
The Retreat
The Femme Fatale
The Bombshell
The Glamazon
The Femme Nikita
Beauty Retreat
Bare Escentuals
Face Place
Beauty Emporium
Aqua Bling
Beauty Boutique
Pretty XO
Eternal Youth
Salon De Beaute
Cutie Patootie
Elegant Essence
FormulaGlow
Pretty Pulp
Beautique
Obey Your Beauty
Pretty Fun
Pool Noodle
RetroCool
EverGlowy
TrueBeauty
BeautyBuddies
PrettyCherry
PrettyPoppet
Lucky Lipstick
Wish U Were Here
Sprinkles
Pinch Me
Escape
Think Pink
elly Be Thy Name
Unique Beauty Business Name Ideas
Sweet Matter
Self-Love Salon
Bloom Beauty
Diva Rose
BeautyHour
BeautyFable
Lulla-Ladies
BeautyBoard
GleamGlow
PrettyCrop
Kitty Kisses
New Age Beauty
Modern Goddesses
Nouveau Look
Goddess Complexions
La Femme
TheRightPickUp
BeautyRooms
BeautyBlazer
FancyFaceCo
Mirror So
Easy on the Eyes
Bella Buzz
The Glam Lab
Inkwell Creative
Skin Care Sundays
Heavenly Goods
Pretty Little Things
BeautyDust
Glam Rush
TooGoodToGo
DeLuxe It Up
Blemishless
Beauti-Full
Dazzle Bubbly
Tranquee
Lilah Beauty
Brillant
Beau-Tiful
Quietly Radiant
Cover Queen
You're Lit
Bold Minerals
Club Queens
Kendra Rose
Heavenly Silks
Hush Hour
Beneath and Beyond
Big Beauty
Best of Your Skin
Canvass
Daisy and Daisy
Eureka!
Beautyalove
Honeydew
Pink Slip
Tropical Pop
Ivy and Mint
Glowticity
Subscribe to Beautyholic!
Get updates on the latest posts and more from us straight to your inbox.SUBSCRIBEI consent to receiving emails and personalized ads.
One Word Beauty Business Names
Siren
Beautyology
Venus
Aphrodite
Isis
Cleopatra
Nefertiti
Allure
Sultry
Glam
Luxe
Chic
Refined
Timeless
Opulent
Splendid
Glitz
Fancy
Flair
Gleam
Beautease
Iridescence
Scintillate
Spark
Dazzle
Becauteous
Glitter
Radiance
Beadazzled
Lustrous
Shine
Resplendent
Sheen
Sleek
Luminous
Mystical
BeautyBunch
LuxeBeauti
Mire
Kyula
Marron
Treza
Pique
BareBeauty
Beautlive
Wildflower
Honeybee
She Cream
GlowJo
Fionull
Cutera
Neat-N-Even
Layerly
Glowy
BerryNude
Kalessie
Lovelinesss
Beautyify
Rosebud
Luxuriously
Beautyous
Bejeweled
Onyx
SkinMint
Nailina
Preen
Quenche
GetBeauty
LuxReveal
Eyelove
Loveli
Unblemished
BeautyBae
Beautypalooza
Glamour Buzz
Soulshine
Dreamless
Sweetz
Moonfall
Nailfection
Lashique
BeautyX
Handsup
Blushtease
Naturess
Vitalina
BloomJewel
CherIe
TrendHead
SweetPearl
PearlIce
PrettyMint
SweetChin
PrettySkin
Spectabelle
Zerobe
Skinnia
LaBelle
Lalondon
Vanitee
Floris
EyeLinx
BeautyDome
PinkTarte
Cavale
Entwine
Bellita
TotalGlow
BeautySpot
Glitterati
Sweeten
BeautyCall
Beautica
Magnetism
Earthness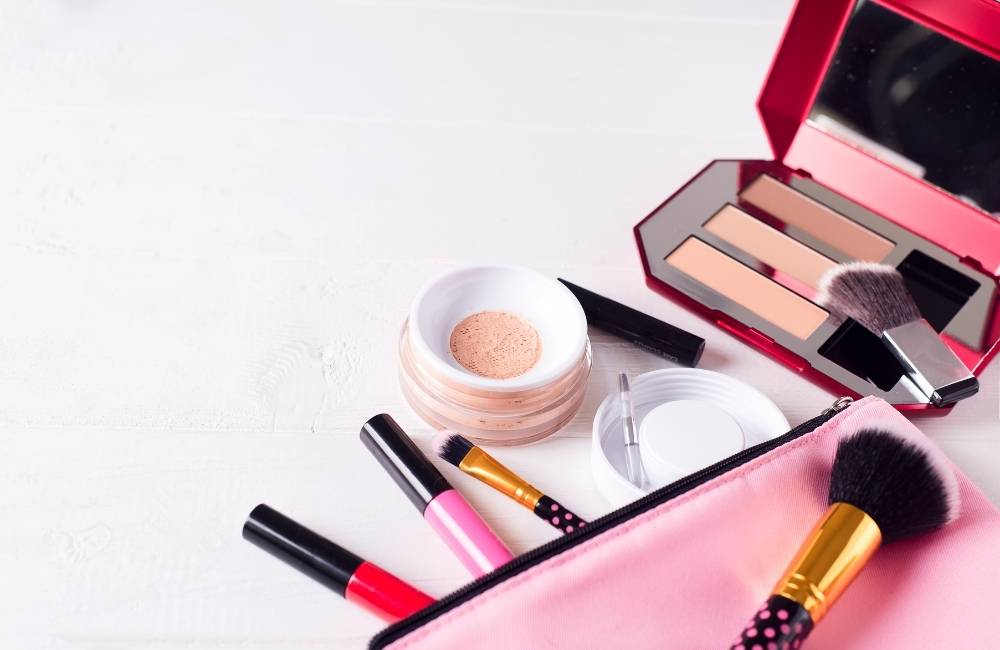 Creative Cosmetic Business Name Ideas
Painted Lady
Pretty in Pink
The Cosmetic Kitchen
Makeup Maven
The Makeover Studio
Dolled Up
Color Me Beautiful
Cosmetics & Co.
Gorgeous Glam
Makeover Magic
Glamour Girl
Color Dimension
Lipstik Inc.
Glossy Goals
Cosmetic Secrets
Coral Seashells
Coralista
Makeup Misfits
FaceValue
Beautitize
Lipstick's the New Nude
Muddy Rose
Cherry Lips
Wet Aplenty
Summer Scented
Exfoli-tation
Flower Scentsation
RedsAndBombshells
LusciousLips
DestashingDiva
DeGrasse
Rosy Rose Petals
Painted Paws
PrimaLoss
DeePressed
NudeGloss
Fantyx
GirlyGloss
NoMakeup
Glitz n Glam
Color Craze
Playful Pout
Plump Perfect
Buttercream
Powderish
PowderFit
Powdered
BlankFace
BareMarks
MakeMePretty
Rize
Moodter
Make Up Me
Cheeky Charms
AphroditeDerm
UrbanLipstick
LipsSoul
MakeUpLife
Acrystyle
LipsWins
GrinsLips
MakeRose
FacesNew
BeautifulMist
CosmeticsArt
CosmeticsHazel
Skinderella
PoutBoutique
Blush Buddy
Lipstick Alter
MakedUp
BeautyBlisser
Trumakeup
Le Flawless
Beautifyment
LipMorph
PowderCube
Cosmeye
Tristar
MakeFine
MaxLure
Dabulous
FlutterLash
Mille and Haute
StyleSand
BeautyBot
InfiniteChic
Boudoir
Smoked Lash
Glam Stripe
Hello Brights
Nude You Makeup
Chiquida
Makeupia
Snappy Sour
Careful Darling
Cosmetic Geek
Sassy Shadow
Boss Pretty
Glamour Dolls
Beautiful Kisses
Kiss My Face
MakeLab
Lumicreamy
Lasting love
Short Sweetheart
Lovers' Kiss
Hair & Beauty Business Name Ideas
Cutting Edge
Glossy Locks
HairCurtain
OliveYou
KeratinDip
Tressed to Impress
The Mane Attraction
The Cut
A Cut Above
Hair & Now
Lashes & Locks
Crowning Glory
Curl Up and Dye
Sugar Tressed
Curl Custard
Hairtreats
Curl Blossoms
Eve's Garden
Hair Carnival
Hairstyles Unlimited
Prima Donna Hair
Fizz Hair
Curls and Clicks
Passion for Hair
Hair Spills
Make it Cut
Love My Locks
Facial Scissors
Dye Shoppe
HairSpa
Locksmith
Hair-iva
Hairity
Gypsy Hair
All Hairs
Haircuttery
Hairlicious
Beautyfuls
Kera Care
Hair Truths
E-Luminate
Hairpin Turn
Lash Y'All
Nooks and Knacks
Twistspire
Haircuttery
Hairzz
Beautyty
Majestic Curls
Haircut & Makeover
Georgette's Salon
Hairsational Salon
Braid Bar
Dollish
Knotty
Dollin' Around
Hairspiration
Curls N' Quills
Hair Hatches
Hello, Handsome! Hair Parlour
Hair Home
Mane Attraction
Curls & Company
Love Your Length
Curly Whiskers
Beauty Splendor
The Gleam Group
Rocking Hair Salon
Snip, Sip, and Style
Hairitage
Glow-Blow
Bae-Stache
Hair And Cuts
Beautiful Hair
Why should you choose the best name for your beauty business?
A lot goes into selecting a name for your beauty or makeup business.
The biggest beauty brands usually have the most catchy and unique names. You can do this to make your business stand out from the crowd and attract clients.
Memorable names stick in people's minds, which means they're more likely to remember your company when they need your products.
Also, names that tell a story or carry a special meaning are especially effective.
A good name reflects your company well, so choosing one perfect for your brand is essential.
Whenever you decide to start your beauty company anywhere, come up with a name that will catch people's attention.
How to come up with a beauty brand name?
Is your new beauty brand about to launch? Congratulations! It's an exciting time for you and your business.
Whether you're starting a small beauty shop or a new product line, naming is an essential part of success. Here are some tips for selecting the perfect beauty brand name.
Think about the meaning of your name
Is your brand all about natural beauty? Or maybe it's focused on luxury and glamour?
Names should reflect what you sell and how you want to be perceived.
Choose a name that fits your brand's feel and tone.
Check domain name availability
After you've come up with a few possible names, you should check if the domain name is still available. This is important because you want customers to be able to find your website easily.
Add a twist to it
Short and catchy names stick in your memory. Customers will remember your brand better when looking for beauty or makeup products.
Use SEO keywords
Your brand name should contain keywords that customers will likely use when searching for your products. It'll help you show up on search engines.
Make it fun
When naming your business, don't be afraid to get creative. Put your brain to work to come up with a name that stands out.
Seek feedback
The next step is to ask for feedback on the names you've come up with. Ask your friends, family, and even potential customers what they think of your name ideas. See which ones resonate the most and go with that.
Try a name generator
If you're struggling to brainstorm names on your own, there are lots of online name generators that can help you come up with ideas for your new beauty brand and are free to use. Just enter a few keywords related to your brand, and you'll get some names. Use keywords like 'beauty store name' or 'beauty company name.'
Go with your gut
The bottom line is, you should pick a name that feels right to start your own beauty business. Trust your instincts and pick something that you're proud of.
Over to you…
The sky is the limit when it comes to beauty business name ideas. The possibilities are endless.
But before settling on a name, think about what kind of brand you want to create. Do you want to create a luxury beauty brand? A natural beauty brand? A wellness beauty brand? Knowing where you want your brand to go will help you pick the perfect name for your business.
No matter what type of brand you ultimately decide to launch, we hope our list of makeup and beauty brand name ideas has given you some inspiration. Wish you luck!