f Eileen Gu's account of last Saturday's Freestyle Ski World Cup event in Calgary is anything to go by, a day in the Olympian's life is as varied as it is busy: She took first place in morning qualifiers, wrote two essays, read some René Descartes and George Berkeley for a philosophy class and then "did some physics" before returning to the slopes for the final.
"I won that, came back," she continued, casually brushing over her first competition appearance since last year's Winter Olympics, "proof-read my essay… turned it in, called it a night at 10 p.m. and hit the hay. So that was one of those days."
Why Eileen Gu is luxury fashion's dream model
This time last year, American-born Gu was less than two weeks away from making her Olympic debut in Beijing, representing China, her mother's country of birth. As one of the Games' most heavily sponsored athletes, she was already a recognizable face. But few outside the skiing world had seen her in action. Any suggestion that her abilities had been overstated soon dissolved as she took home three medals, including golds in the halfpipe and big air competitions.
In the 12 months since, Gu has enrolled as an undergraduate at Stanford University and been named among Time magazine's 100 most influential people. She has also bolstered her reputation as a highly sought-after model. In May, she made her runway debut for Louis Vuitton — in a torso-bearing outfit from the label's Cruise 2023 collection — and has starred on the covers of Vogue Hong Kong and Singapore's edition of Harper's Bazaar in recent months.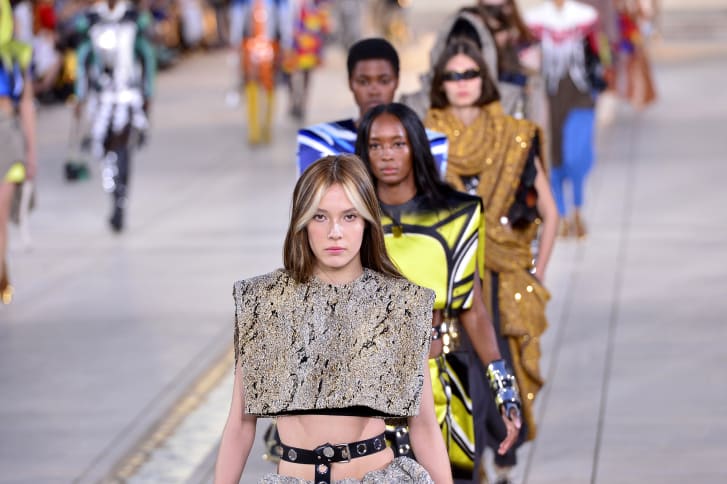 Gu makes her runway debut at Louis Vuitton's 2023 Cruise show in San Diego, California in May 2022. Credit: Jerod Harris/Getty Images
"People always think that fashion and skiing are these two completely disparate entities … when in reality, the core aspects are actually very similar," she said, speaking to CNN sports anchor and correspondent Coy Wire ahead of this weekend's Winter X Games in Aspen, Colorado.
"Both are rooted in a sense of self-expression and creativity. Both require a lot of confidence, being able to perform under pressure, and being able to be yourself unapologetically. And I think that those qualities really do carry over."
Not only do sport, school and fashion overlap, they contribute to one another, said Gu, depicting the juggling act as a matter of symbiosis, not compromise. What she learns in psychology applies to skiing, which in turn sparks creativity that she carries into fashion; modeling meanwhile offers lessons in resilience and confidence that are then applied to her college work — "so it all goes in a circle," she said.
Hurtling down a halfpipe may have little in common with walking a runway but "all of it is connected," the 19-year-old said. Drawn to action sports for the sense that she is "constantly pushing" her own boundaries, Gu said skiing leaves her feeling "like I'm capable of anything."
"Because if I can push my body to do a double cork, who says I can't add another 180 (degrees rotation)? Or if you want to flip it into another area of my life, who says I can't get a better score on the next test, or shoot my dream magazine?"
"Beauty is power," she later added. "And beauty is being able to be strong, not just in what your body looks like, but also what your body can do."
Eileen Gu reacts after her final jump before winning gold during the Women's Freestyle Skiing Freeski Big Air Final at the Beijing 2022 Winter Olympic Games on February 8, 2022. Credit: Mao Jianjun/China News Service/Getty Images
Style 'characterized by balance'
The California-raised athlete — whose decision to represent China provoked criticism from some quarters in the US — has long been interested in fashion. Having "stolen little pieces" from her mom's closet as a child, Gu attended her first fashion week, in Paris, aged 15. The experience was, she said, "absolutely life-changing."
"Just seeing the way art can truly be put on the body, and how expressive it can be in a show. (It's) not just about the people wearing the clothes and how they look … but also about the atmosphere, the music, the set — there's so much that goes into it."
A 'tool to empower': The evolution of women's sportswear
She describes her personal style, like much else in her life, as "characterized by balance" — "between masculine and feminine, between elegant and sporty, between playful and mature.
"All of those really are different facets of my life, and depending on the day, I find fashion is a great way for me to express how I feel … I look different every day, even within a few hours. But that's what's fun about it."
These striking portraits of female athletes help address the gender gap in sport photography
Gu is signed with IMG Models, the agency behind Kate Moss, Bella Hadid and more of fashion's biggest names. She has worked with Victoria's Secret, Tiffany & Co., Swiss watchmaker IWC and cosmetics giant Estée Lauder (as well as a variety of brands in China, including café chain Luckin Coffee, telecoms firm China Mobile and Inner Mongolia's Mengniu Dairy).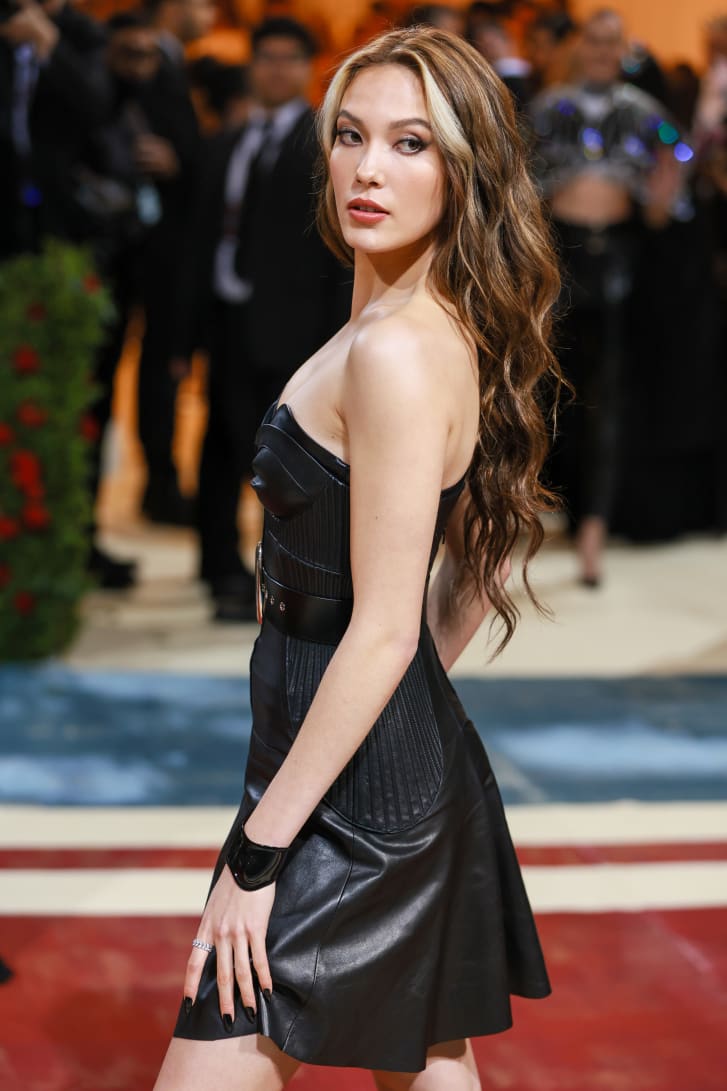 Gu attends the 2022 Met Gala at The Metropolitan Museum of Art in New York City. Credit: Theo Wargo/WireImage/Getty Images
These deals helped establish Gu as the third-highest-paid female athlete in the world last year, according to Forbes, which estimated her 2022 earnings at over $20 million. She also hopes the visibility can make her a role model for young girls and aspiring athletes — the kind she said she lacked when she was young.
"For me, growing up, there weren't that many girls in the ski industry," she said, adding: "I'm young and I'm trying to do my best, and I just want to be the person that a girl at home can see on TV or on their phone and say, 'Hey, you know, if she can do that, then I want to try it, too. She looks like she's having fun. When can I try?'"